Robotics
Reciprocating Spray System:
---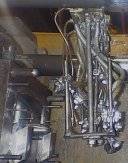 Our reciprocating system mounts on the top of the front platen of the die casting machine. It uses a dielube tank with an air driven motor to agitate the lube solution to prevent separation.
Adjustments are provided to change the height and stroke for each die. The PLC control allows full programming capabilities of all spray functions in conjunction with the extractor, frequency of the spray, timing of the spray as well as separate air blow function and capability of stopping the reciprocator on its upward stroke, are all included in the controls.
Automatic Synchro Conveyor System:
---

Our conveyors can be programmed with the extractor and spray to provide a complete cell. The air cooling tunnel enables a casting to be carried from the extractor to the trimming station without the need to water quench. This eliminates cleaning and is more friendly to the environment. A timer in the PLC pulses the conveyor in coordination with the machine allowing sufficient cooling time to the casting being trimmed.
Vertical Rotation Extractor
---

Our machines are fitted with PLC controlled Auto Rotation Extraction driven by a strong frequency drive motor utilizing a double articulated arm. This allows for full synchronization with the safety guards on the machine and smooth performance for trouble free reliable operation.